West Midlands Mayor calls for the Government to support aerospace in the Midlands
---
Recently, the MAA met with Andy Street, Mayor of the West Midlands, and key regional stakeholders, to share how aerospace companies across the Midlands are responding to the Covid-19 crisis and why the aerospace supply chain needs help from government to survive and recover from the continued impacts of the pandemic.
Joining the session were industry leaders, a number of MPs, Make UK, trade unions and LEP chairs including the Black Country LEP which leads on aerospace for the West Midlands Combined Authority.
In the Midlands, we have one of the largest aerospace clusters in the world, bringing significant economic and employment benefits to the region. We have deep manufacturing supply chains with strong local roots and, before the pandemic, aerospace in the region had doubled in size in the previous 15 years.
However, as a result of the pandemic and the dramatic drop in flying, many aerospace companies have been significantly affected which has forced them to rapidly cut costs and workforces. The challenges extend well beyond the primes such as Rolls-Royce and Airbus which tend to make the headlines. We risk losing 25-30% of our skilled aerospace workforce, possibly 60,000 jobs across the UK when we take supply chains into account.
So the MAA is pleased that, Andy Street, a champion of manufacturing and business in the Midlands, is determined to do everything he can to support aerospace in the region.
After the meeting, he wrote a letter to Secretary of State for Business, Energy and Industrial Strategy (Rt Hon Alok Sharma MP, just replaced by Rt Hon Kwasi Kwarteng MP), stressing the importance of the Government doing everything possible to
encourage a safe return to flying
preserve and grow the skills and capabilities of our supply chain companies
and provide a cashflow support fund for manufacturing SMEs.
You can read the Mayor's letter in full here.
2021 will be a critical year for the recovery of aerospace to growth but it will take several more years to return to pre-pandemic levels of turnover and employment, possibly 2023 to 2024.
Much depends on the resumption of flying. As the race between vaccine and virus enters this new phase, and the sheer unpredictability of the evolution of the pandemic becomes evident, to some observers the level of uncertainty currently seems to be increasing, not decreasing.
Despite this, aerospace supply chain companies have been doing everything in their power to protect and eventually regrow their businesses by scaling back, innovating and diversifying. Not all business sectors are going through the pandemic in the same way, and the MAA believes the Government must do everything it can to support these companies and an advanced manufacturing sector that is so important to the UK.
So it's good news to have such strong support from a regional leader like West Midlands Mayor Andy Street and all the regional and local stakeholders who are right behind our aerospace supply chain.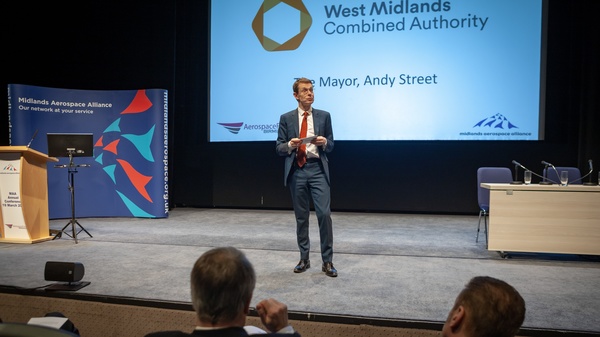 Pictured: West Midlands Mayor Andy Street at the MAA Conference 2019