---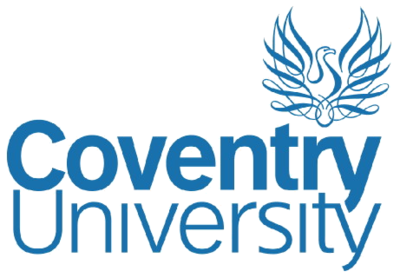 At Coventry University, aerospace activity is especially focused on teaching. The university is one of the top five UK universities in terms of students taking engineering courses. Aerospace research at the university focuses on applied research with industrial partners.
CASE STUDY: Aircraft tyre modelling
A major factor affecting aircraft and landing gear strength requirements is the ground load generated at the tyre/ground interface. This, in turn, depends on tyre properties. System and aircraft level simulation models, which contain tyre models, are used through the whole life of an aircraft project from design to in-service support.
Coventry University runs a project that aims to develop a mathematical model of the forces and moments generated in the tyre contact patch. The current method of defining aircraft tyre characteristics is through extrapolated manufacturer's data and data extracted from flight testing. This means that the validity of data used in load calculation is at risk until flight test results are achieved.
Compared to tyre modelling in automotive industries where most available tyre models have been developed, aircraft tyre modelling is much more technically challenging. The project aim is to develop aircraft tyre models for tyre, system and aircraft level simulations. This work will lead to more accurate predictions of landing gear loads and aircraft manoeuvrability and better steering and braking systems. The project is funded by Airbus and the EPSRC.
Research and technology
Helicopter crash protection
To improve passenger safety, the European HeliSafe project used information from historical flying accident investigations and developed an overall safety analysis and simulation tool using a generic computer mock-up and an aviation related crash dummy. The research group at Coventry University undertook computer simulations making extensive use of existing automotive technology.
Advanced actuation systems for electric aircraft
Research in this area has looked at electromechanical actuation systems for aircraft primary flying controls, focusing on potential solutions for hard jams.
Metrology Centre
Coventry University is a recognised leader for independent measurement expertise and services, underpinned by academic expertise. We are a National Physical Laboratory (NPL) approved training deliverer and the first and only education provider to offer the Foundation Degree in Metrology . Our consultancy expertise is regularly sought by academics in the field as well as the aerospace industry and its supply chain, including Rolls Royce, Trescal and Arrowsmith Engineering.
Courses and teaching
The Faculty of Engineering and Computing offers a wide variety of professional development courses, designed to increase skills in the workplace and develop career prospects. We are working with a number of clients to design and deliver very specialised training, ensuring the solution delivered has a measurable and immediate impact. Our accreditation service enables employers to accredit an existing training programme, thereby validating its quality and offering staff globally recognised, practical qualifications consistent with the organisation's vision.
Contacts
Professor Mike Blundell
Associate Dean-Enterprise
02476658924
Mr Christopher Bland
Head of Department, Aerospace, Electrical and Electronic Engineering
02476888693
Links:
Coventry University www.coventry.ac.uk