---

Are you ready to turn ambition into reality? Grow your business and improve performance using the best practice aerospace and defence has to offer.
If the changing priorities of day-to-day get in the way of your improvement plans, then it's time to take a more robust approach using Supply Chains for the 21st Century (SC21) and the Supply Chain Solutions (SCS) Framework.
The Midlands Aerospace Alliance (MAA) is working alongside ADS to deliver this best-in-class improvement programme and can guide you through the process.
If you're familiar with SC21 and want to register your interest with ADS just click the link below, alternatively email Tim Holmes, MAA Technology Manager, for more information and to discuss your next steps.
For those less familiar or needing a refresher, read on or watch the recent MAA's online SC21 event...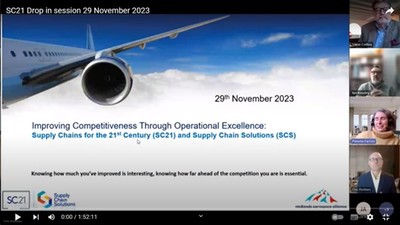 Click the screen shot to watch the SC21 drop-in session
Improving Competitiveness Through Operational Excellence
Competitive and sustainable supply chains are vital to the future growth and success of the aerospace and defence industries. The Supply Chains for the 21st Century (SC21) Competitiveness programme offers companies a structured approach which enables them to unlock growth and improve performance.
SC21 is supported and recognised by leading primes and OEMs. Built on 17 years of success, it's a best-in-class improvement programme for the aerospace and defence sectors and optimises the customer-supplier relationship for mutual benefit and in the best interests of the UK's national prosperity.

Participation in SC21 is voluntary but strongly encouraged by leading customers in the aerospace and defence sectors, thirteen of which have invested time and money to run the programme. Involvement acts as a differentiator to customers, active companies often see a sustained improvement in quality and delivery performance, with successful participants gaining industry-recognised awards along with significant impacts to their company's bottom line.
Part of the Supply Chain Solutions (SCS) framework, SC21 is a simple access, cross sector programme led by industry through a partnership delivery model, facilitated by ADS on a not-for-profit basis, and in partnership with the Regional Aerospace Alliances (RAA). Here at the MAA, dedicated support comes from Tim Holmes, an SC21 Lead Practitioner and Fellow of the Chartered Quality Institute (CQI), Tim is on hand to guide companies through the four phases of SC21: Engagement, Assessment, Improvement and Recognition.
Ready to start your SC21 journey?
Click the link to register interest with ADS or email Tim Holmes, MAA Technology Manager, for help getting started.
What Our Members Say about SC21
Active for almost 15 years, Redditch based G&O Springs used the SC21 programme to become a centre of excellence placing its stakeholders at the heart of the business. Steve Boyd - Managing Director says,
"G&O springs have been involved with SC21 since 2009. The competitiveness framework has been instrumental in helping our business to mature at a much faster rate.
The diagnostic assessments are excellent tools which help identify areas of improvement in all aspects of your business. In 2009 we turned over £1.5M, fast forward to today and the programme has helped us more than double that by embedding systems which constantly maintain and improve our Quality, Cost and Delivery.
What's great about the new SCS is the improvement library where you can dip in and have a go yourself, though for us, the best results have always been achieved using one of the accredited practitioners. We thoroughly recommend the programme to anyone who wants to improve any aspect of their business."
Over in Coventry, ASG Arrowsmith have been producing aero-engine components for some of the world's most prestigious aerospace engineering OEMs since 1967. Managing Director, Jason Aldridge and his team have been using SC21 for the last 13 years. Jason says,

"The core approaches of SC21 have been fundamental in how we've developed. At its heart the programme is about continual improvement and Arrowsmith has used the framework's tools to grow the business, set strategic direction, boost performance, improve relationships and get closer to customers. We've removed waste and improved efficiency seeing an overall growth of 250% and a sustained quality & delivery performance which has seen Arrowsmith recognised as an SC21 Silver awarded company for the last 8 years consecutively."
Getting Started or Continued Engagement
Whether new or a longtime advocate reinvigorating your SC21 engagement, participation has never been easier with several ways of getting involved:
• Customer Sponsored – join at the request of a key customer or approach an active OEM to discuss being sponsored as part of their supply chain.
• Self-Starter – choosing to improve as a self-motivated company may involve support from accredited industry experts, or by self-assessment using the Baseline Assessment Tool (BAT) a quick, free and easy way to understand core aspects of the programme and make an initial step to getting involved.
• Regionally Led – explore options by speaking with the MAA, attend one of our events, or contact Tim Holmes directly.
Four Stages to Holistic Improvements
Signing up to SC21 requires commitment at CEO or equivalent level. Participants commit to developing a working culture focusing on accreditation, development, performance and relationships, with the aim of improving competitiveness, using four process steps to realise greater efficiency, remove duplication, lower overheads, reduce costs and increase profitability.

Benefits of Participation
SC21 delivers many recognised benefits tailored to your business by assessing your current performance against your own strategy, deploying a unique Continuous Sustainable Improvement Plan (CSIP) will help focus on specific areas to improve performance, leading to recognition with a bronze, silver or gold awards through progess directly linked to your bottom line.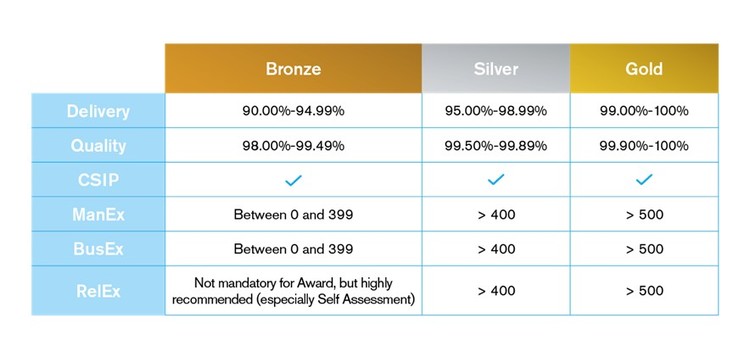 End to End Performance
"It's not just about winning awards", says Tim Holmes, "Over the years I've witnessed companies of all shapes and sizes use SC21 to fundamentally change their business."
In 2011 Tim managed a public funded programme for the MAA, supporting 29 participants who used SC21 to gain an average improvement of 7% in on time delivery and an overall quality performance of 99.15%. Improvements which lead to a 19% increase in turnover and a 23% rise in value added per employee.
"The programme touches all aspects of a company, lays out best practices for working with customers and suppliers and engaging employees so that everyone pulls in the same direction. It helps leaders turn top level goals into achievable projects, to manage performance with tailored measures and regular reviews."
If you're ready to find out more click the link to register interest with ADS or email Tim Holmes, MAA Technology Manager, to get started.
Frequently Asked Questions
Q. What makes SC21 different from other improvement programmes?
A. The four stages of SC21 engagement make it effective to any company regardless of its shape and size, maturity in lean, or status of its customer relationships. The diagnostic tools generate a bespoke improvement road map, identifying strengths and opportunities based on an organisation's current performance.
Q. Who's involved in SC21?
A. SC21 is industry led with direct investment from aerospace and defence primes. A national programme delivered regionally, it's the most widespread improvement process industry has ever undertaken, with companies of all shapes and sizes able to get involved.
Q. Can anyone join the SC21 programme?
A. Any organisation will benefit by implementing SC21, but only companies supplying into aerospace and defence supply chains can gain recognition.
Q. What will it cost me?
A. Signing up to SCS/SC21 is Free, as is deploying the Baseline Assessment Tool (BAT). Some companies access support from customers, whilst others employing external help from accredited industry experts. Deploying diagnostic tools and developing a detailed improvement plan typically takes between 4 to 7 days and costs around £3,300 to £5,250 dependent on the size and complexity of the company.
Q. Is there any funding available to carry out SC21?
A. There is no public funding to carry out SC21 at present, though support may be available to carry out specific improvements around innovation, technology, or sustainability for example.
Q. Am I guaranteed new business?
A. SC21 won't guarantee new business, but engaging in the programme demonstrates you're serious about supplying world-class products and services to your customers. However, realising improvements with SC21 increases competitiveness and make companies more likely to win work.
Q. Is MAA membership a requirement?
A. No, but we hope that our support will encourage you to join.