Group mission
"Support member companies to identify and develop new business opportunities."
Message from the chair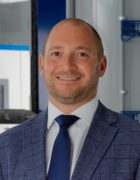 Now is a pivotal time for aerospace. The impacts of Covid-19, and the effects on air travel, have forced the aerospace industry to rapidly adapt and reconsider its future in order to survive and regrow stronger than before. Many have taken the opportunity to re-think their business development strategies and have decided to diversify and pivot as well as invest in capabilities and technologies to create new opportunities.
The MAA has always been dedicated to helping the aerospace supply chain grow and that's why its work is more vital now than ever before. The Business Development Group plays a major role in terms of advising on commercial strategy. It also helps identify opportunities for companies to promote themselves globally, network and collaborate through international airshows, conferences and other events.
See the wide variety of activities and initiatives the group supports here.
In total, the Business Development Group provides over 200 hours a year of senior aerospace commercial expertise that is invaluable to MAA members, some of which do not have in-house business development teams and benefit heavily from accessing the insights the group shares.
The group's work is focused now on the future competitiveness of aerospace in the Midlands - one of the largest clusters in the world - as it navigates an era of great change but great opportunity through sustainability, innovation and new ways of working. We live in a world that is more connected than ever before but competition is fierce so it's critical that the region has a strategy that helps aerospace businesses thrive.
Rob Holmes

Current group members
Greg Adams, Business Development Manager, Prodrive Advanced Technology
Paul Blunden, Director - International Military Sustainment, Moog Aircraft Group
Larraine Boorman, CEO, Optima-UK Inc Ltd
Emma Burgess, Marketing Manager, Midlands Aerospace Alliance
Michael Carlisle, Business Development Manager, Independent Forgings and Alloys Ltd
Joanne Cole, Member Services Manager, Midlands Aerospace Alliance
Nikhil Gandhi, Business Development Manager – Advanced Manufacturing, West Midlands Growth Company
Simon Gill, Business Development - UK, Maycast Nokes Precision Engineering Ltd
Pete Griffiths, New Business Manager, Darchem Engineering Ltd
Kirsty Hallows, Head of Commercial & Account Management/Power and Controls, Collins Aerospace
Neal Hillier, Sales Manager, Aerotron Composites
Rob Holmes, Group Head of Business Development, Broadway Group - Chair of BDG
Dr Andrew Mair, Chief Executive, Midlands Aerospace Alliance
Brian Mountford, International Trade Advisor, Department of International Trade
Maxine Oatridge, General Manager, Midlands Aerospace Alliance