MAA Conference 2018 stokes thinking on aerospace industry growth, disruptive technologies, Brexit, UK manufacturing sector . . .
---
The Midlands Aerospace Alliance's 6th annual conference urged aerospace supply chain companies to look beyond borders, literal and figurative.
The conference brought together key decision makers and influencers from the aerospace sector and 150 supply chain representatives. Delegates gathered on 8 March at the Rolls-Royce Learning and Development Centre in Derby to hear industry experts and leaders discuss the challenges and opportunities that lie ahead.
The event encouraged delegates to look beyond borders as they prepare for Brexit and exploit growth within an increasingly global sector, and to embrace fully the opportunities that are available in a sector that is primed for massive growth.
The global aerospace industry now employs more than 62m people worldwide. Air traffic is doubling every 15 years and it is anticipated 33,000 new aircraft will be required over the next 20 years.
The biggest take away messages for delegates came from Airbus' Head of UK Supplier Development Andy Moran who urged the UK supply chain to become ever more competitive and productive in order to win new business. Rolls-Royce's Chief Operating Officer Simon Kirby was clear Rolls-Royce is having to revolutionise the way it runs its business. Production expert David Wimpenny from the Manufacturing Technology Centre (MTC) encouraged delegates to invest for the future in new technologies such as additive manufacturing which could have a major impact on machinists, fabricators and special process firms like heat treatment and surface engineering.
Robin Hill, Head of Electronics at Rolls-Royce, explored what electric propulsion would mean for the gas turbine industry and how the drive for electric vehicles is set to push the demand for cleaner transport across air, land and sea. Expert consultant Robert Thomson of Roland Berger emphasised that these trends can be seen across the aerospace industry.
The conference also addressed the prospect of Brexit and the implications it has for everyone within the aerospace sector. Jeegar Kakkad, Chief Economist and Director of Policy at ADS, talked about how UK suppliers should be preparing for exiting the EU and concerns over potential delays at Dover, whilst Lee Hopley, EEF Chief Economist, focused on the challenges, opportunities and policy changes affecting the UK and Midlands manufacturing sector. The overarching message was that the aerospace supply chain must have the right plans, strategies and investment in place to adapt to changing economic landscape.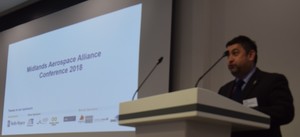 Martin Rawson, Deputy Leader, Derby City Council and MAA Director, welcomes delegates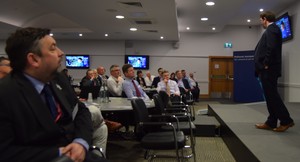 Airbus's Andy Moran gets delegates thinking about the UK aerospace supply chain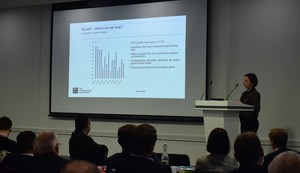 Lee Hopley of EEF puts UK manufacturing in perspectve
According to MAA Chairman David Danger:
"Midlands aerospace businesses have earned a global reputation for manufacturing excellence and are able to compete on a global stage. Yet as competition intensifies and Brexit looms, it is imperative they adapt accordingly. Our regional manufacturers need to rise to the challenge of supplying products and services for new aircraft, together with repairs, maintenance and overhaul for existing fleets. And the MAA is always here to help them."
Andrew Mair, MAA Chief Executive, said:
"Our sixth annual conference was a huge success, attracting delegates from right across the aerospace supply chain. They were able to network, share ideas and gain insight with like-minded businesses, whilst keeping abreast with the latest sector trends.
"It was clear from the conference topics and discussions that supply chain companies need to invest in their future operations, whether through new technologies, better business processes or implementing new manufacturing techniques. In addition, our sector needs to look beyond borders and beyond Brexit so we continue competing on a global platform."
The verdict of one conference participant was clear:
"The MAA conferences are always of great interest, giving me valuable insights. But this year, every topic was also important, laying out the factors we really have to look out for."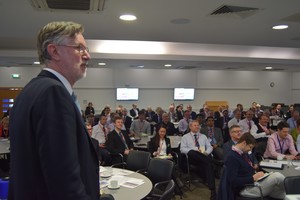 Participants vote on the issues, Andrew Mair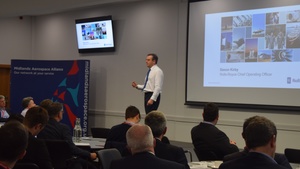 Simon Kirby takes questions from delegates on Rolls-Royce and its supply chain

Our delegates
And finally, another big vote of thanks to our sponsors!
Gold Sponsor
Silver Sponsors
Bronze Sponsors