Four recently elected directors bring their expertise to the MAA board
---
With 2022 set to be a pivotal year for the regrowth of the aerospace industry, strong leadership is critical. That is why, at the MAA, we are proud to be supported by over 60 senior aerospace leaders across our board and three working groups. They bring diverse experience, knowledge and insights from organisations operating at every tier of the aerospace supply chains that are central to the Midlands aerospace cluster.
Four MAA directors recently elected or re-elected by members to support our mission are:
Craig Fullwood, Operations Director and Co-owner, CCR Forming (re-elected).
Rob Holmes, Vice-President Aerospace, Hardide Coatings.
Simon Smith, Business Development Executive, Gardner Aerospace.
Stephen Molloy, Aerospace, Defence & Industrials Director, G&P Group Holdings (re-elected).
Rob has also been announced as the new chair of the MAA Business Development Group, after having participated in it for many years. The group works to identify and advise on commercial opportunities for supply chain companies.
Craig Fullwood
Craig has 20 years' experience in aerospace, working for a global leader in metal fabrication for aerospace prior to joining CCR Forming as Operations Director to help grow the company's business globally. He has been heavily involved with the MAA for several years, participating in both Paris and Farnborough Airshows. This is Craig's third term as an MAA Director and he looks forward to continuing to use his expertise to support the organisation's aims and objectives as well as be an advocate for the great work that's being achieved.
"I have been involved with the MAA now for over 10 years and the organisation is invaluable," says Craig. "I have widened my network and received support for my company through the diverse range of activities and events organised including the annual conference and networking opportunities as well as presence at airshows. As an MAA Director, I want to continue using my experience to support members wanting to achieve operational success at this crucial time for the aerospace industry."
Rob Holmes
Rob has 27 years' experience, mostly in the aerospace industry, spanning engineering, operations and business development. He has been active within the MAA for many years and his combined technical and commercial expertise will be invaluable as we explore the future of aerospace as the industry regrows and strives to achieve its ambition to reach Jet Zero by 2050.
"My aim is to support MAA members of all sizes and resource levels with drive for innovation, market access, aerospace global supply chain knowledge and international business skills," says Rob. "The pandemic has significantly changed the market for aerospace and the MAA is helping companies navigate the changes by enabling the sharing of knowledge and experience so supply chains not just survive but thrive."
Simon Smith
Simon's career at Gardner Aerospace has spanned 25 years, working his way up from a semi-skilled sheet metal worker through engineering, project and account management to his current position as Business Development Executive. He has a diverse set of skills, experience and knowledge and plans to use these to support the MAA's collaborative approach to helping members grow through shared strategies, support and networking.
"Our industry has been through another turbulent period. However, with build rates returning, the future is looking positive once again. The dynamics of aerospace manufacture and supply chains are changing and the MAA is there to support its members in delivering for the future. Being elected as an MAA Director is a privilege and within my role I will be working to promote member collaboration and networking as I believe these are key factors in the success of our businesses."
Stephen Molloy
Stephen, an IMechE Chartered Engineer, is Aerospace, Defence & Industrials Director at the award-winning quality management services company, G&P. He has held a number of international and senior positions in aerospace OEMs and aircraft systems providers, including Head of Aircraft Ice Protection at Airbus and Assistant Chief Engineer in Rolls-Royce Civil Aerospace. He has been a strong supporter of the MAA for several years, offering expertise to all three of our working groups. Newly re-elected as an MAA Director, Stephen looks forward to being able to apply his expertise more widely for the benefit of members.
Stephen Molloy said: "It's an honour to be re-elected to the MAA's board. It is an incredibly exciting time for the industry as it seeks to overcome recent global challenges. By continuing to work collaboratively and bring together our individual skills and areas of expertise, we can help ensure aerospace companies within the Midlands continue to be ideally positioned and operate competitively on the world stage."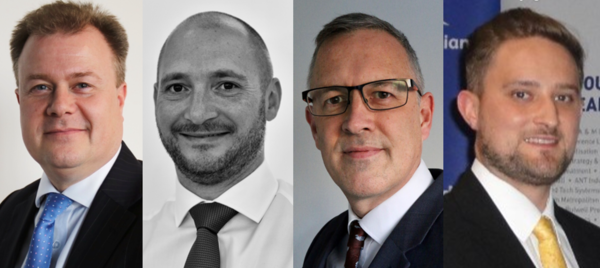 l to r, Stephen Molloy, Rob Holmes, Simon Smith, Craig Fullwood
Click here for more information about the MAA Board of Directors.