Aerospace Forum comes to Birmingham.
---

Organised by


Supported by the leading companies in the Midlands aerospace industry.




Between 19 – 21 March, delegates descended on Birmingham's International Convention Centre to grapple with the hot topics facing the global aerospace sector. Aerospace Forum Birmingham 2019 provided the perfect platform to explore how new technologies and innovations can help businesses benefit from rising demand – and share concerns about Brexit.
The forum is becoming one of the highest profile events in the aerospace calendar and Birmingham was proud to play host to leading businesses and industry figures. Delegates spent three days deliberating over the pressing issues facing aircraft and engine makers, first-tier suppliers and the global supply chain.
The first part of the Forum featured the MAA Conference 2019. This was followed by two days of intensive B2B meetings organised by BCI Aerospace, the French aerospace B2B experts and the MAA's partner for the Forum.
Day One: MAA Conference 2019
" . . . a fantastic conference; Ii was a well organised event, great speakers and most importantly had a warm and friendly atmosphere."
The first day featured a major international conference coordinated by Midlands Aerospace Alliance (MAA). The centrepiece was the insight offered by ten keynote speakers who discussed how the Midlands' aerospace industry can secure a competitive advantage in the global market whilst mitigating the risks around Brexit. West Midlands Mayor Andy Street officially opened the conference, followed by prominent aircraft and engine makers and first-tier companies explaining to delegates what technologies and capabilities they need from their supply chains -- and some of their own future plans.
Simon Burr, Director of Engineering and Technology – Civil Aerospace at Rolls Royce, talked about the importance meeting rising global demand now while simultaneously preparing for disruptive technologies which are set to change the face of manufacturing in future decades.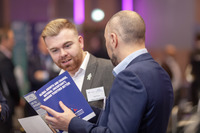 Preparing for a busy day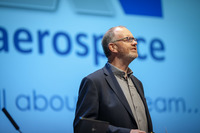 Sponsor Peter Bruch of AE Aerospace addresses the conference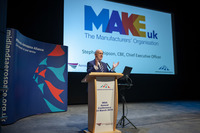 MAKE UK's Stephen Phipson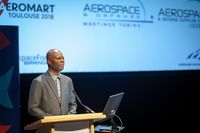 BCI Aerospace's Alain Ngoie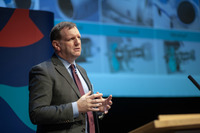 Simon Burr of Rolls-Royce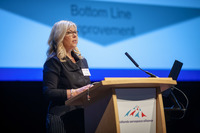 Esterline's Annette Rothwell
Delegates also heard how UK manufacturers are responding to rising demand by embarking on bold investment programmes. Mike Platt, SVP General Manager MCS UK at Meggitt, talked about how the manufacturer is building a £130m "super site" at Ansty Park near Coventry. The facility will be home to 1,000 employees, creating a new international headquarters and hub for aerospace innovation and research and development.
Regional businesses were encouraged to work together through the MAA to overcome whatever hurdles stand in their way as they seek to exploit new opportunities. David Best, Head of Business and Strategy at Airbus UK, explained how the OEM is taking the lead in tackling skills shortages in its supply chain, whilst Ed Dryden, Vice President Actuation at Collins Aerospace discussed using human resources more effectively by addressing diversity and inclusion.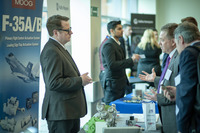 Moog, Rolls-Royce and Collins Aerospace networking tables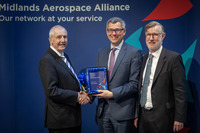 John Paulson receives MAA Ambassador Award from MAA Chairman David Danger, with MAA CEO Andrew Mair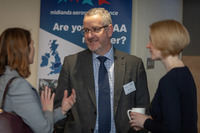 Members of the MAA Business Development Group Mike Beirns of Teer Coatings and Liz Monk of Moog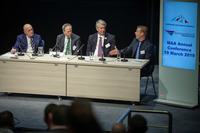 Panel session: Stephen Phipson, Paul Grey, Chris Gane, Frank Jansen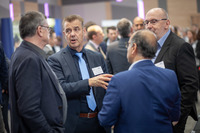 Networking in the breaks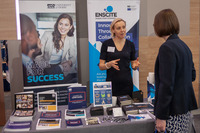 Learning what sponsors have to offer
Meanwhile, Annette Rothwell, Vice President, Operations Excellence, at Esterline, explored how aerospace supply chains can become more efficient. In her role as chair of MAA's supply chain performance group, she encouraged Midlands aerospace companies to work together in clusters and take advantage of the support and guidance of larger companies in the network to boost productivity.
Beginning just ten days before the UK is set to leave Europe, much of the event was spent discussing Brexit. The second conference session focused on how the current climate of uncertainty is affecting the sector. During the panel discussion, delegates voiced their frustration about government's constant change of direction and Make UK's chief executive Stephen Phipson emphasised the need for Whitehall to have a productive dialogue with industry and give meaningful advice on how to respond.
Frank Jansen, Managing Director for the Netherlands Aerospace Group, urged SMEs to build their resilience by investing in skills, plant and technology. The Department for International Trade's aerospace business specialist, Chris Gane, also endorsed taking a proactive approach by exploring new export opportunities.
Indeed, despite anxiety around Brexit, industry leaders were keen to emphasise the huge growth opportunities within aerospace. Air traffic is doubling every 15 years and it is anticipated an extra 33,000 aircraft will be required over the next two decades. The sector already employs around 250,000 people in the UK and British engineering companies are well placed to exploit rising demand.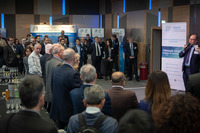 International reception with Boeing's Denzil Lawrence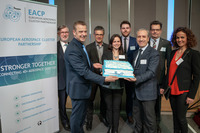 The 43 member European Aerospace Cluster Partnership . . .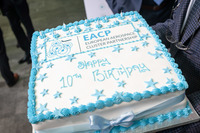 . . . celebrates its 10th anniversary!
What they said about the conference
Very good organisation. and quality of speakers
Probably one of the best MAA Conferences that I've been to. Generally positive, good speakers, excellent networking!
I thought this was the best MAA conference that I have attended.
A combination of great speakers and topics along with plenty of opportunity to network.
Great day, everyone I spoke to said it had been really beneficial.
Very well organised and good mix of industry and professional bodies.
Well organised event with good speakers and sufficient opportunity to network and learn.
Another good event. Very well organised, compliments to the MAA staff.
It was important also in view of Brexit. Relations will have to be kept anyway
The usual professional approach. Useful industry update.
The event was well organised and the majority of the speakers very engaging. The topics were interesting and fairly diverse with differing points of view. There was just about sufficient time to network in the breaks.
The delegates I spoke with were all very open to discussing the issues effecting their businesses. It was definitely worthwhile attending.
We thought it was an excellent day of learning; gleaning many facts we hadn't expected to be covered (Grads and Apprentices).
It was a very useful exercise and the day was very insightful regarding the world of aerospace in the Midlands.
A good spread of speakers and networking opportunities.
Two days of B2B meetings
The conference was followed by two days of highly productive matchmaking organised by the MAA's partner, French aerospace B2B experts BCI Aerospace, with around 3,000 intensive business to business meetings and discussions taking place. Leading OEMs communicated what support they need from smaller companies in their supply chains to meet global demand. The guest list read like a Who's Who in the world of aerospace manufacturing, including representatives from Boeing, Rolls-Royce, Honeywell, Moog, ITT, Meggitt and COMAC. There were also international contingents from France, Italy, Poland, USA and Spain.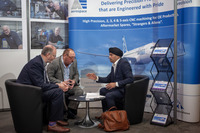 B2B meeting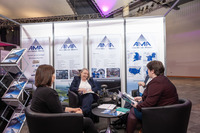 B2B meeting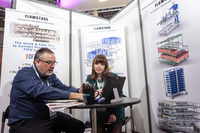 B2B meeting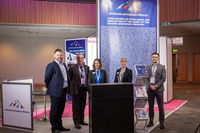 Gold Sponsor American Express and MAA team prepare to meet companies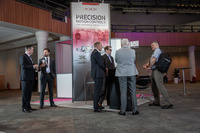 Moog meeting booth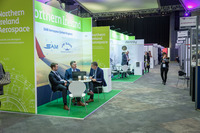 Typical alley of meeting booths
Andrew Mair, MAA Chief Executive, said: "It was fantastic to welcome the global aerospace community to Birmingham to share their knowledge and insight. Uncertainties associated with Brexit are casting a shadow over all of business, and aerospace isn't exempted. Yet the forum confirmed that there is cause for optimism. Rising international demand for aircraft and engines is creating huge opportunities for our businesses and the MAA looks forward to helping them fulfil their potential."
Thank you to all of our conference sponsors:


American Express have recently launched multiple B2B cash flow solutions for both buyers and suppliers, which allow your business the power to grow through effective working capital management.
For further information please contact Sam Wells, 07519520769, or click here.















Our media partner: Aerospace Manufacturing Magazine