Advanced Innovative Engineering improves engine performance by achieving 1/3 mass reduction
---
Additive manufacturing is set to play a critical part in enabling aerospace achieve its ambition to reach 'jet zero' by 2050 thanks to its ability to reduce weight, reduce waste and reduce carbon emissions.
Advanced Innovative Engineering (AIE) produces rotary engines for industries including aerospace, automotive and marine. With over 80 years' combined experience in engineering research and development, the company is renowned for its world-class expertise and was eager to lead the way by being an early adopter of additive manufacturing technologies.
Therefore, the company was delighted to be selected for the DRAMA* programme which was created to research and share expertise in the field and develop new trial facilities to enable faster implementation of this transformative technology in the UK. The programme was led by the Manufacturing Technology Centre (MTC) – home to the National Centre for Additive Manufacturing – and included the Midlands Aerospace Alliance, ATS, Autodesk, Granta Material Intelligence, NPL, Renishaw and the University of Birmingham.
Exploring the power of additive manufacturing
With the support of the DRAMA programme, AIE wanted to investigate the suitability of additive manufacturing to:
Improve engine performance through weight reduction (including moving from liquid cooling to air cooling);
Decrease product development and manufacturing lead times;
Decrease production costs; and
Consolidate component count wherever possible.
The project, delivered in AIE's state-of-the-art facility in Lichfield, was split into three distinct activities, supported by NCAM engineers:
AIE Rotary Housing – Conceptual Fin Designs: Fin designs were constrained to maximise heat dissipation within the motor housing and minimise weight. A variety of fin geometries fell into approximate categories: Honeycomb lattice, TPMS Gyroid lattice and Algorithmic tree and each were developed within the constraints allowed. Each fin geometry was then printed to allow AIE to assess as-built surface roughness and the potential for manufacturing and functionality issues.
Thermal/Structural FEA Simulation: The two preferred fin designs and primary engine components (engine housing, front and rear end plates) underwent structural simulations to assess areas of critical concern for stress values below yield point criteria for aluminum under the scenarios modelled.
Additive manufacturing process selection: Laser-powder bed fusion was chosen as the optimum additive process. A build layout was created and demonstrator parts were printed using a Renishaw 500Q additive manufacturing machine.
Additive manufacturing delivers significant benefits
As a result of the project, engine mass was reduced from 6kg to 4kg and component count was reduced significantly – with a corresponding reduction in manufacturing costs - while maintaining the operational capabilities.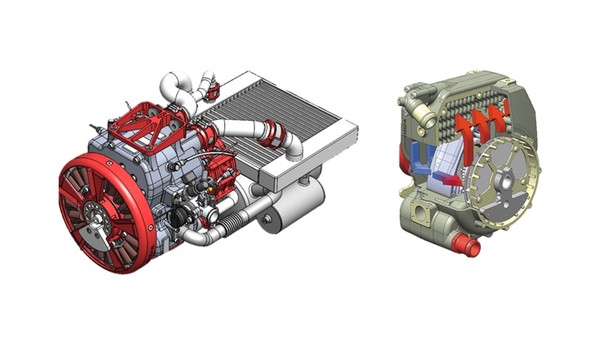 Original engine (water--cooled), left, and DRAMA engine (air-cooled), right
AIE now plans to take additive manufacturing further by exploring the thermal sensitivity of the assumed input parameters as well as considering convective and radiative heat transfer interactions between surfaces. Further CFD studies of the fluid flow over the engine will also be undertaken to accurately assess flow characteristics through the fin designs and better inform design for a full production version.
Nathan Bailey, Managing Director, AIE, said:
"Accessing the expertise of NCAM through the DRAMA programme has been instrumental in enabling us to develop an understanding of metal additive manufacturing, its potential applicability to engine designs and the solutions that can be provided over and above traditional manufacturing processes. DRAMA really has been a game-changer, reshaping our approach to product design."
If your company is interested in exploring additive manufacturing to drive sustainability and gain competitive advantage, you could be eligible for funding and expert support through the Aerospace UP programme which is currently open for applications. Find out more here.
*Digital Reconfigurable Additive Manufacturing facilities for Aerospace