Great media and sponsorship opportunities
---
The MAA represents one of the largest aerospace clusters in the world. It is a leading regional voice for the industry and the growing supply chains. Our strong partnerships mean our reach expands to a wide range of complementary sectors including defence, space and air mobility too.
We work strategically with our members to ensure the Midlands is always at the forefront of the global aerospace industry and is seen as a pioneer of innovation.
The influence we've established over 20 years through our popular events, publications, and online channels, means that getting involved could create great opportunities for your company. This could help you get noticed by thousands of organisations, generate leads and grow.
Download our new media pack here to discover the current partnership and advertising opportunities open to both MAA members as well as companies that are not part of our network.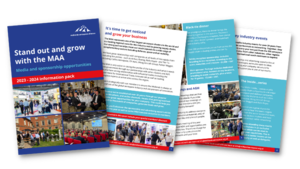 Please note, prices quoted are the MAA member rates and the free bonuses highlighted are exclusive to members. If you are not an MAA member, please contact us for a separate quote.
You can also find out more about the great benefits of joining the MAA here.
To discuss and book any of the opportunities included in the pack - or the benefits of membership - contact us at info@midlandsaerospace.org.uk or on 024 7643 0250. Our team will be delighted to talk to you about how we could help you raise the profile of your business and grow.