MTC, Ansty Park, Coventry
---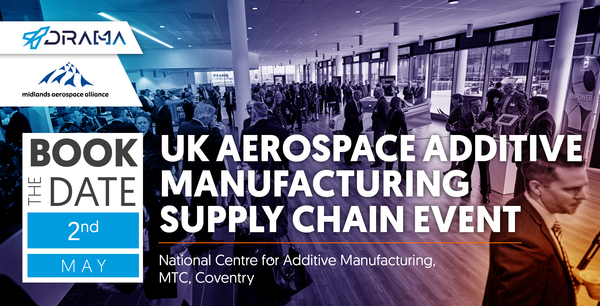 Please note registration is at 08:30 for a 09:00 start, download the agenda here.
Additive Manufacturing (AM), also known as 3D printing, is a process where products are created by building layers of material on top of another until a complete 3D object is formed. The process can take digital design data and transform this information into a physical part within hours. AM has the potential to revolutionise the way products are designed, manufactured and even supplied. AM is already transforming the way some companies manufacture their products and has the potential to put the UK at the forefront of global manufacturing.
AM is not new, this groundbreaking technology has been used for Rapid Prototyping within sectors such as automotive and tooling for more than 30 years. However, rapid development of the technology means that AM is now becoming reality for end-use parts across a range of sectors, from aerospace to food production, as companies seek to take advantage of design freedoms, product performance enhancements and waste reductions that can be achieved with AM.
This event aims to introduce you to the benefits of the process and the challenges associated with its introduction. You will hear from speakers from Primes including BAES as well as speakers from the MAA membership in lower levels of the supply chain: JJ Churchill, Gardner Aerospace and Sigma Precision Components. We will also hear from the ATI about their national strategy. You will have a chance to give your input, which will come from discussion groups during the day.
This event is being organised at the beginning of a three-year project, DRAMA, which aims to establish world-class additive manufacturing 'test bed' facilities and a corresponding digital-twin virtual environment for the aerospace industry and its supply chain. The test bed facilities will be at the National Centre for Additive Manufacturing (NCAM), located at the Manufacturing Technology Centre (MTC), Coventry and at Renishaw's AM Solution Centre in Stone, Staffordshire.
Join us on the 2nd May at the MTC, Ansty, Coventry, to understand how the DRAMA project could benefit your business and provide support along your additive manufacturing journey.
Further discussions and networking will take place over lunch and during a tour of the National Centre for Additive Manufacturing at the MTC.
Please note that this event is fully booked.
This event is free to attend.