Brought to you by MAA, University of Nottingham and West Midlands Innovative Manufacturing Working Group
---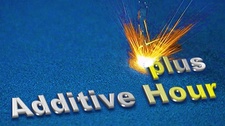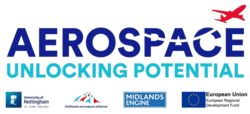 Aerospace UP is supported by the European
Regional Development Fund (ERDF)

Please register below.
You will be able to join this virtual meeting using Microsoft Teams. You can register right up to the start of the meeting. We will then send you a link to join.
(if you don't have Teams, you don't need special software, or to download anything, you will be able to join on the web in a couple of clicks; for any issues email emma.burgess@midlandsaerospace.org.uk)
This special extended edition of the regular Aerospace UP "Additive Hour Plus" will be held jointly with the Innovative Manufacturing Working Group which is part of the West Midlands Combined Authority's (WMCA) Innovation Programme.
Confirmed speakers include:
Advances in Additive Manufacturing: Dr. David Brackett, National Centre for Additive Manufacturing, Manufacturing Technology Centre

Automotive/Motorsport: Dave Cooper, Head of Additive Manufacturing Technologies, Progressive Technology Group

Space: Jason Gilmore, AM Expert for Airbus Defence and Space

Aerospace: Sébastien Messe, VP Quality and Continuous Improvement Safran Additive Manufacturing Campus (SAMC), Safran

Medical: Dr Paul Unwin, Onibury Consulting Ltd

with a viewpoint on rail from Robert Hopkin, Birmingham Centre for Railway Research & Education
More about the meeting
Join us online with your coffee! Logon early if you can -- to help us start on time. In fact, feel free to join a few minutes early to say hello to our online moderators.
You'll be able to send us your questions and comments and network with other participants during the meeting.
Are you eligible for funding and expert support for your additive manufacturing project?
Why not see now if your organisation is eligible for funding and expert support from the University of Nottingham and the Midlands Aerospace Alliance under the Aerospace UP programme?
Click here to fill in the simple on-line eligibility check & enrolment form. In a nutshell, the criteria are:
SME (business with fewer than 250 employees, turnover less than €50m)
business address in Midlands.
For any questions about the form and eligibility contact Sarah Walker, ERDF Project Manager, Institute for Aerospace Technology, University of Nottingham - s.walker@nottingham.ac.uk.
---
Register now!