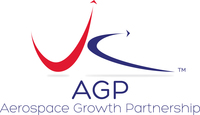 NATEP was set up for smaller aerospace suppliers to develop their own new technologies.
The fifth and final funding call for potential NATEP projects closed in 2015.
More than 100 projects have been launched.
Introduction to NATEP
The £40m NATEP programme is helping UK supply chain companies develop more than 100 novel technologies. It is also enhancing UK supply chain capabilities and networks and enabling them to deliver high added value to future aerospace products and services and increase their ability to win new business with higher tier companies anywhere in the world.
NATEP is being implemented by the UK's national aerospace strategy body, the Aerospace Growth Partnership, and includes £23m from the government department responsible for business, BIS, through its Advanced Manufacturing Supply Chain Initiative (AMSCI) fund. It is also sponsored by leading UK aerospace primes and Tier 1s: Airbus, Bombardier, GKN Aerospace, Rolls-Royce and Spirit.
NATEP builds on the successful regional Aerospace Technology Exploitation Programme (ATEP) run by the MAA from 2006-12 - by turning ATEP into a four-year national programme.
About NATEP
A structured process to encourage the exploitation and positioning of new product or manufacturing technologies emanating 'bottom up' from UK aerospace supply chain
£40m programme including £23m of government funding to mature 100 undeveloped aerospace technologies and create jobs in the supply chain
Funds new technologies at small partnerships of SMEs, mid-cap business units with customer participation
Focuses on assisting innovative projects through the middle TRLs (rather than fundamental research)
Must have a clear route to the aerospace market
Complementary expert support programme boosts supply chain capabilities in R&D management, technology strategy planning, partnering and effective collaboration -- for the long term
Model is proven by the Midlands Aerospace Alliance (MAA) Aerospace Technology Exploitation Programme (ATEP)
What is NATEP achieving for the aerospace supply chain?
This NATEP flyer summarises what the programme is achieving.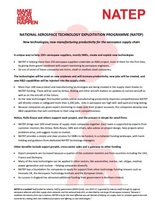 NATEP project dissemination
Showcase events are being held around the country to disseminate the results of NATEP projects. For the report on a national NATEP dissemination event hosted by the Midlands Aerospace Alliance click here.
Industrial members of the Midlands NATEP Regional Advisory Panel
These Midlands experts having been offering their time and expertise to support the companies participating in the NATEP projects.
Adam Amadeo
Engineering Director
UTC Aerospace Systems - Marston Aerospace
Mark Barge
Managing Director, Performance Products
Ricardo UK Ltd
Kevin Cooke
R&D Technology Centre Manager
Teer Coatings Limited
Mark Hancock
Engineering Director
Meggitt Polymers and Composites
Robin Hill
Engineering Fellow - High Integrity Electronics
Rolls-Royce Controls and Data Services
Hitendra Hirani
EU Business Development Manager
University of Nottingham Institute for Aerospace Technology
Toby Hutton
Manager Friction & Structural Materials Engineering
Meggitt Aircraft Braking Systems
Dan Price
Engineering Director
ITP Engines UK Limited

Paul Snelling
Head of Supply Chain Collaboration Component Engineering
Rolls-Royce plc
Steve Sproson
Technical Manager
UTC Aerospace Systems - Actuation Systems

Julian Thomas
Engineering Director
TT Electronics, Power & Hybrid Business Unit

Michael Thompson
Chief Engineer: Programmes
Manufacturing Technology Centre
Malcolm Whitmore
Non-executive Director
Winbro Group Technologies Limited
Further information
NATEP is managed by the UK's national aerospace body ADS, with all support to companies provided directly by the UK regional aerospace alliances (including the MAA).
To find out more about NATEP click here. Midlands companies, including MAA members, should contact Peter Knight, MAA NATEP Technology Manager: peter.knight@midlandsaerospace.org.uk, 02476 430 256 or 07713 893132.