Superb international conference and customer-supplier B2B meetings
---


Organised by

Aero Engine Forum Birmingham, 18 - 20 April 2017, is a supply chain event that brings together engine makers and first-tier systems makers with the entire supply chain.
On day one AEF Birmingham will feature a major international conference at the International Convention Centre - Birmingham, coordinated by the Midlands Aerospace Alliance. Prominent engine makers and first-tier companies will explain what technologies and capabilities they need from their suppliers today and tomorrow. See below to book your place at the conference on day one.
On days two and three engineering, procurement, supply chain, manufacturing, commodity teams, suppliers and service providers will meet through pre-arranged one-on-one meetings. All participants will be able to sign up, identify and request meetings with relevant contacts prior to the event. Schedules of meetings, based on those choices, will be pre-arranged. The one-to-one meetings will be held at the same venue. For more information about the B2B days and to book your place for days two and three go to the BCI Aerospace Aero Engine Forum website. Prices start from £2800 for UK companies.
PLEASE NOTE: You do not have to be a member of the MAA or another aerospace organisation to attend either part of this event.
"At Rolls-Royce our suppliers make a vital contribution to our performance. We encourage them to work openly and collaboratively with us to deliver operational excellence, innovation and competitiveness. Rolls-Royce will continue to support boosting UK aerospace capability through the Aerospace Growth Partnership and the Aerospace Technology Institute (ATI), as well as Sharing in Growth and the National Aerospace Technology Exploitation Programme (NATEP). We are delighted to be part of the Birmingham Aero Engine Forum and we hope to see many of our suppliers and partners, both existing and new, there."
| | |
| --- | --- |
| | Colin Smith, Group President, Rolls-Royce plc |
"Moog are delighted to have the opportunity to support this event which will enable us to engage with high quality suppliers to the Aero Engine marketplace."
Stuart Mclachlan, Group Vice President & General Manager, Aircraft Control Components Sector,
Moog Aircraft Group
"Predicted air passenger numbers are expected to grow to unprecedented levels with some organisation anticipating total passenger growth set to double to 7 billion by 2034. Being able to take full advantage of the predicted increases in air travel demand and the expectation that China will overtake the US as the world's largest passenger market by 2030 is of vital importance to everyone connected with the aerospace industry. The aerospace business and supply chain in the West Midlands has a vital role in that growth and expansion. UTC Aerospace Systems looks forward to this year's Aero Engine Forum to help drive innovation and excellence in the aerospace industry."
| | |
| --- | --- |
| | Robert Hupfer, Actuation Systems General Manager Wolverhampton,UTC Aerospace Systems |
"It is my pleasure to welcome the international aerospace industry to Birmingham, UK. We may not make aircraft but we do make superb aircraft engines and a wide range of innovative hydro-mechanical, electrical and electronic systems. I am honoured to join Rolls-Royce, Moog, UTC Aerospace Systems, BCI Aerospace and all of our aerospace suppliers in hosting this outstanding event in the Midlands."
| | |
| --- | --- |
| | Dr Andrew Mair, Chief Executive, Midlands Aerospace Alliance |
The MAA and BCI Aerospace look forward to seeing you there!
Download the event flyer: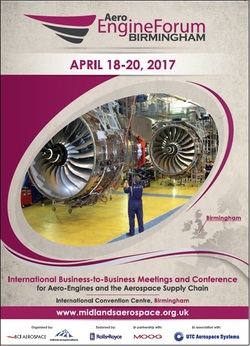 Booking
For the day one Midlands Aerospace Alliance conference see below. To book for days two and three go to the BCI Aerospace Aero Engine Forum website. PLEASE NOTE: You do not have to be a member of the MAA or another aerospace organisation to attend either part of this event.
Prestigious sponsorship opportunities for the day one conference are also available - for more information contact Anne Esterson, MAA Operations manager - 024 7643 0250.
Conference 2017
Agenda coming soon!
Keynote speaker: Mike Whitehead BEng CEng FIMechE, Chief Engineer and Head of Programme – UltraFan™ Technologies, Rolls-Royce.
Silver sponsors
Bronze sponsors
Day one conference registration rates for 2017
| | First participant | Additional participants |
| --- | --- | --- |
| MAA member | £250 | £175 |
| Member of partner organisation (ADS, AWF, FAC, NWAA, WEAF) | £300 | £225 |
| Non-member | £350 | £350 |
Click here to check if your company is a member of the MAA.
---
Book your place for now